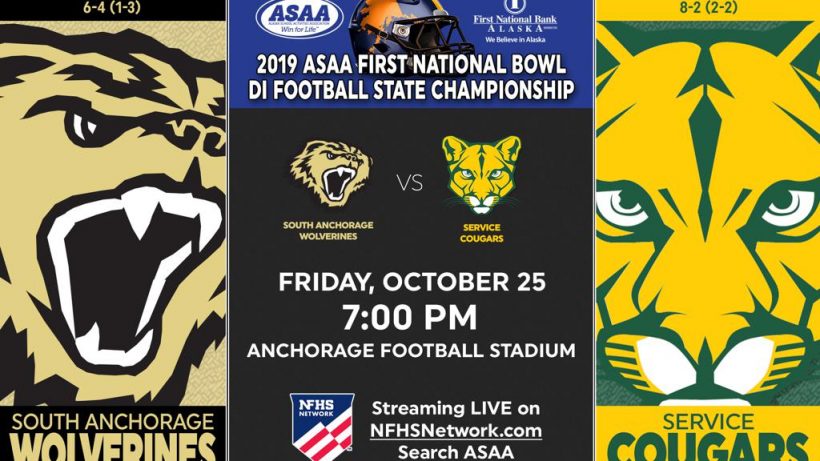 The 2019 ASAA First National Bowl DI Football State Championship Game is Friday, Oct. 25, 2019 7:00pm at Anchorage Football Stadium! South Anchorage Wolverines go against the Service Cougars for the state championship!
Gates open 5:30pm for the public. There is an event from 6pm-9pm at the Sullivan Arena so be sure to get there early for the BEST PARKING! Concession will be selling HOT COFFEE/CHOCOLATE along with other great food. Be sure to get your Frito Pie, Popcorn, and more!
ADULTS: $10 per person
STUDENTS (7th-12th Grade): $5 per person
SENIORS (65+) and CHILDREN (6th Grade & Under): FREE!
AFS FACILITY RESTRICTIONS – No Outside Food, Pets, or Portable Heaters are allowed.
LIVE WEB STREAMING
The NFHS Network will be live streaming Division I, II & III Final Championship games. Visit the NFHS network website for more information.
GENERAL INFORMATION
• ASAA First National Bowl History
• 2019 ASAA First National Bowl Series Locations
• 2019 ASAA First National Bowl Schedule (updated 10/21/19)
DIVISION I/II/III BRACKETS
• 2019 ASAA First National Bowl DI Bracket
• 2019 ASAA First National Bowl DII Bracket
• 2019 ASAA First National Bowl DIII Bracket
RESULTS
• 2019 Football State Championship Results
PROGRAMS
Championship programs are available in a downloadable PDF for free. You may also order a printed version (fees apply) from TheBookPatch via the Print On-demand link below. Print On-demand programs are generally available within 30 days following the event.
• 2019 First National Bowl Series Championship Program (Downloadable PDF)